Description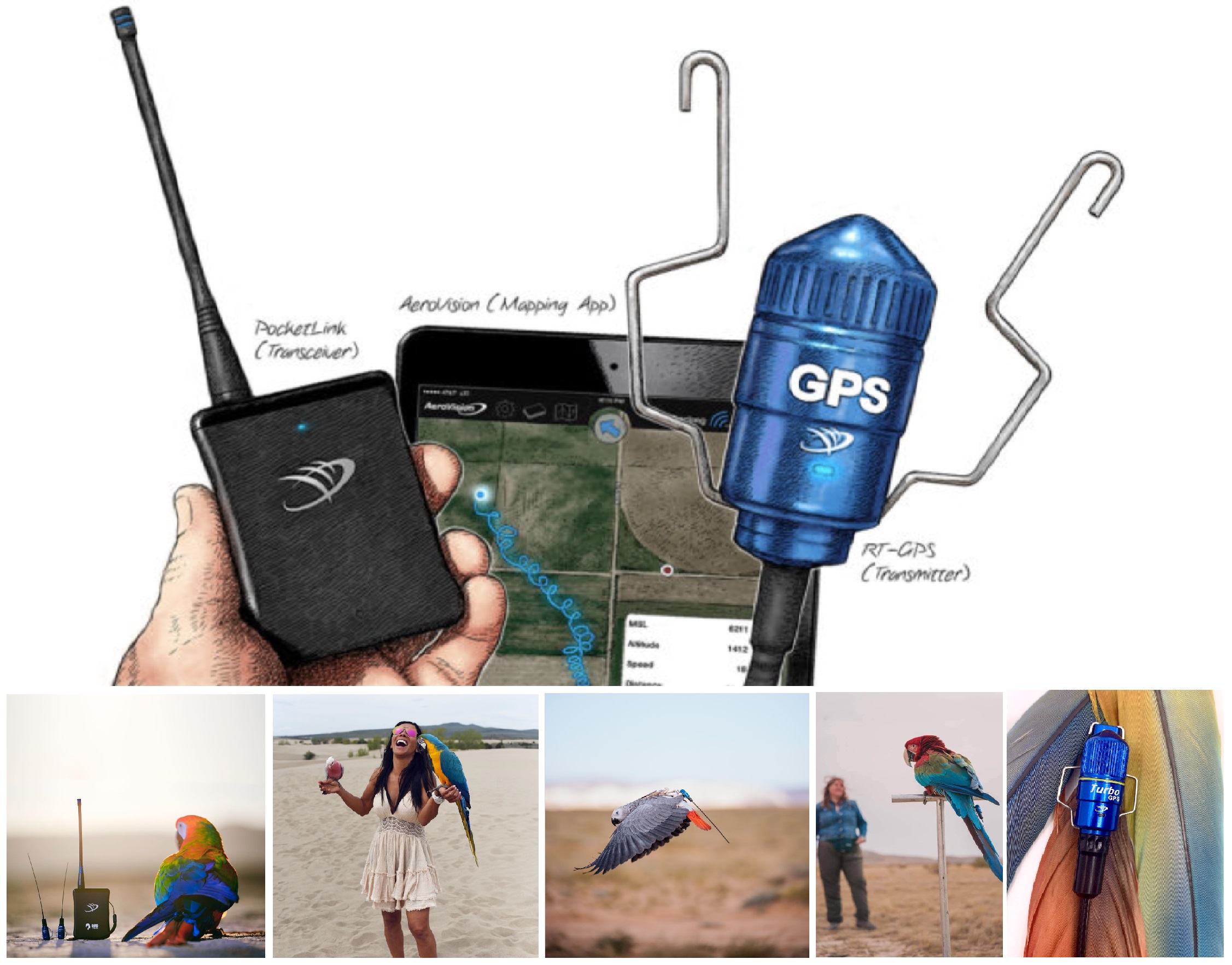 LET'S ANSWER YOUR QUESTIONS!
---
+ WHAT IS THE GPS SYSTEM?




TURBO-GPS TRANSMITTER

The Turbo-GPS transmitter is the same size, shape, and weight as our traditional telemetry transmitters, but also houses a tiny GPS receiver. Powered by swappable rechargeable battery "lids", you can start each flight with a full charge, providing maximum runtime and safety. Precision machined from aircraft aluminum, the transmitter is small and light while also being extremely rugged.

POCKETLINK

The Pocketlink Data Receiver – receives the GPS data from your Turbo GPS and send this to your smartphone via Bluetooth. The Pocketlink is about the size of a deck of cards, machined from billet aluminum, is waterproof, and integrates a high capacity rechargeable battery for 30+ hours of use between charges.

AEROVISION 5 APP

View your flights and statistics live on the AeroVision5 App (iOS + Android Beta). Control your GPS transmitters' mode; put it to sleep to save battery or increase GPS performance for the ultimate in recorded flights. AeroVision has undergone years of rigorous use and refinement providing an easy-to-use and friendly user experience.

Choose between satellite imagery, street, or terrain view maps to see your bird's exact location and flight path. In addition to tracks and mapping, the Marshall GPS provides flight statistics (speed, altitude, distance traveled) as well as a handy compass function providing distance and direction to your bird.
---
+ HOW DOES IT WORK?

With a clear view of the sky, the Turbo-GPS acquires its position, then sends this data via "Direct Connect" RF (radio-frequency) signal to the PocketLink. The PocketLink then forwards this data over Bluetooth to AeroVision5 running on your smart device. Up to 5 Turbo GPS transmitters may be simultracked by a single PocketLink; perfect for users with multiple birds and those flying a cast. Multiple tracking modes are easily selectable within the App, allowing the user to customize the system on the fly to achieve the highest accuracy for training or greater battery life for long recoveries.

An important feature of the Turbo-GPS is to intelligently adjust the output power and engage Turbo Mode (increasing tracking range while simultaneously slowing GPS updates) when the transmitter flies out of range of the PocketLink. Turbo provides a 2-3X boost in range, with minimal impact on battery life. When the transmitter comes back into range of the PocketLink, it automatically transitions back to the standard GPS update range.

For even greater range when the bird is on the ground, the Turbo-GPS also sends a traditional telemetry "beeping" signal that can be tracked by the Field Marshall UHF Direction Finding Receiver.

The Pocketlink can be used with the included field antenna for ultimate portability or connected to the optional High Gain Omni for extended range while tracking from the car, providing double the tracking range. A High Gain Omni is recommended for all users.

TURBO-GPS TRANSMITTER SPECS

Weight: 9 grams incl. battery
Battery: rechargeable Lithium Battery (user changeable w/spare)
Battery Life: 2-3 days with configurable modes to allow up to 7 days
Antenna: 7 inch whip

POCKETLINK SPECS

Weight: 250 grams
Battery used: 3.7V LiPo internal (rechargeable through Micro USB cable provided)
Battery Life: 30+ hours
Antenna connection: SMA
Bluetooth Range: up to 50ft to Phone/Tablet
---
+ WHY IS MARSHALL RADIO'S GPS SYSTEM DIFFERENT FROM OTHER GPS DEVICES?


Nothing is faster or easier to use to track and recover your bird!

Longest Direct Connect GPS range of any system
Smallest and most rugged design, providing the most reliable GPS experience possible.
Swappable Batteries – start each flight with a fully charged battery.
User configurable mounting – easily swap from Tail to back, leg, or neck mount right in the field.
Direct RF connection – not dependent on nearby mobile towers, so it can be used anywhere in the world without fear of "dead zones". No SIM card to maintain therefore no waterproofing issues or further costs from text requests, etc. required to operate it. Simple. Reliable.
Real-time GPS updates – not delayed or irregular response waiting for an SMS. You see where your bird is now, not just where it was.
Live tracking of up to 5 transmitters, simultaneously.
Best-in-class App w/offline Maps developed in-house: makes it a joy to watch the flight, not a distraction. You can also share your flights live with your friends or replay them in 3D.
Outstanding warranties. Marshall Radio Telemetry warrants its PocketLinks and GPS Turbo transmitters to be free of defects of workmanship and materials for three (3) years on mechanical and moving parts, and three (3) years on electronics from the date of purchase.
Impeccable Customer Service. Marshall Radio has worldwide customer support with access t our support groups on Facebook as well as localized support in the US, UK, Spain, Germany and UAE.
---
+ HOW DOES IT WORK WITHOUT CELL SERVICE?

The Marshall GPS System can work anywhere in the world! If you are using your system outside of cell coverage or in spotty coverage areas, you can download the maps of your favorite hunting spots to use offline.




Direct RF connection – not dependent on nearby mobile towers, so it can be used anywhere in the world without fear of "dead zones". No SIM card to maintain therefore no waterproofing issues or further costs from text requests, etc. required to operate it. Simple. Reliable.

Real-time GPS updates – not delayed or irregular response waiting for an SMS. You see where your bird is now, not just where it was.
---
+ ITEMS TO ADD TO YOUR SYSTEM

Why would you want to add the additional UHF receiver to your system?

The Field Marshall UHF receiver allows you to track the beeping signal of your GPS transmitter when you are in "Plan B Mode". It's also needed to track your backup UHF regular telemetry receiver.*

Why is the UHF Omni High Gain Antenna included?

The use for the Omni high gain antenna when attached to the Pocketlink, will boost the range 2-3 x that of the standard PocketLink field antenna.

The PocketLink uses an SMA connector for quick attachment to Marshall's High Gain UHF Omni antenna.
---
+ WHAT IS THE BATTERY LIFE?

What is the typical battery life of the Turbo GPS transmitter?

The user-configurable modes available within AeroVision allow the Turbo GPS to run for up to a week on a rechargeable battery. You can mix the modes to be configured for several hours of high-update GPS plus many hours of lower update rate tracking. Default settings the battery life is 2-3 days.

What is the typical battery life of the Pocketlink?

The PocketLink's internal lithium battery provides 30+ hours of runtime. Charged via micro-USB. The internal battery has built-in intelligence and has no "memory", allowing you to leave it plugged into the vehicle at all times to stay "topped-off" and ready for field use.
---
+ WHAT IS THE TYPICAL RANGE?

Free space range varies by terrain, elevation, and obstacles. On average you should expect:

Turbo GPS Data Tracking Range: 2 to 100 miles*
Turbo RF Tracking Range: 5 to 200 miles**

*Measurements of distance are quoted using the optional High Gain Omni antenna; varies depending on terrain, bird's height above ground, and obstacles.

**When tracking traditional "beeping" telemetry signal using the Field Marshall UHF Direction Finding Receiver.
---
+ WHAT IS AEROVISION PREMIUM?

Aerovision5 Premium Features (available vis In-App Purchase) $3.99/month or $34.99/year.

Giant Offline Map Storage: State-wide/Country-wide: be prepared, and download large regions for use where cellular coverage is poor.
3D Replay – Review your flights from the falcon's perspective, in relation to 3D terrain right in your AeroVision app.
Apple Watch – Leave your phone in your pocket, and enjoy the hands-free simplicity of metrics and compass, right on your wrist.
Apple CarPlay – Invaluable for car-based recoveries, convert the CarPlay-enabled screen in your vehicle into the ultimate parrot tracking screen. This is a game-changer for those long chases!



---
+ WHAT ARE THE MOUNTING METHODS?

The Marshall GPS System can easily swap mounts from Tail to back, leg, or neck mount right in the field. Learn more about the different mounting methods.



---
+ HOW DO I REMOVE THE TAIL SPRING ON GPS TRANSMITTER?

All transmitters come with a tail spring.

To remove, untwist the antenna protector. There is a blue washer holding the spring. Pull the spring and washer downwards, wiggle back and forth till the washer and spring break free. After removing the spring, re-install the washer and antenna protector. Save the spring to easily convert your transmitter for a tail/Trackpack use in the future.



---
+ WHAT ARE THE REGULATIONS IN THE US AND CANADA FOR USING UHF BANDS?

The use of the 434 (or UHF) band in the USA & Canada requires the user to apply for a Ham Radio License (easily attainable by paying a small fee and passing a written test).

Once done, the user is now a legal 'station' and is able to use the quiet UHF band at much higher power levels. To legally use telemetry on this band, your transmitter must broadcast your station ID (Ham Radio Call Sign, a feature exclusive to Marshall transmitter). You simply enter your call sign or temporary station ID (phone number) into AeroVision5.

If you do not have an Amateur Radio License, you might be surprised how easy it is to obtain one. Pass a simple test, for which you can study all the answers in advance, pay ten dollars, and with an 80% passing grade, you can have a ten-year license, new knowledge about Radio Telemetry, and the authorization to use the non-commercial bands (such as 434MHz) not only for tracking but communication and emergencies.

For those wanting to find out what's required to get a HAM License, here's a great place to start: How to get your Amateur Radio License
---
+ WHAT IF I NEED HELP?

Check out the "Tutorial Videos". These can be found within your AeroVision app near the top in the settings menu. These videos can also be found here.

Join our Social Media Facebook groups. On these groups, you can find ongoing help and technical support. You will get answers to questions directly from the company as well as fellow users with experience. (These are closed group and you will be asked questions to join the group).

Need additional help? You can reach out to us directly through our Contact Us Page.
---
+ COMPATIBLE MOBILE DEVICES TO USE WITH SYSTEM




AeroVision5 App on iOS (downloadable from the App Store) requires:

Minimal Hardware

iPad Mini: Gen 3 or newer (*cellular enabled)
iPad Air, iPad Air2 (*cellular enabled)
iPhone: 7 and newer

Recommended Hardware

iPad Mini (new 2021 version) or newer (*cellular enabled)
iPhone 12 Max or newer

AeroVision 5 Beta App on Android(downloadable from Google Play Store)

Designed to run on higher-end phones and tablets, specifically models with speedy processors, internal GPS, internal magnetometers (compass), BTLE connectivity, and running one of the latest version of Android OS 10/11/12/13

Officially Supported Devices

Google Pixel 2 and newer
Google Nexus Tablet
Samsung Galaxy S10 and newer
Samsung Galaxy Tab S2 and newer

Many other devices may also work great but are not supported by our team.

*Note: Apple and Android products are not sold by Marshall Radio. Also important: a cellular-enabled tablet is required in order for it to have the needed GPS functions. However, you do not need to enable a cellular data plan to use AeroVision5.